Become a Valley View Elementary PTA Champion!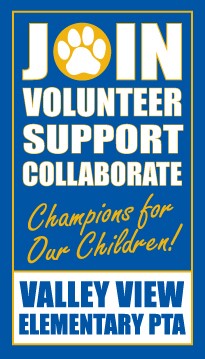 Join- By becoming a member of the Valley View Elementary PTA, you are becoming a part of an organization that sponsors educational programs, health and safety awareness, book fairs, field trips, in-school activities, family events, and various other opportunities for the children in our schools. A portion of your membership dues goes directly to our state and national PTAs. These organizations are essential in advocating for the rights of our children.
Volunteer- Once you become a member of the PTA, there are a multitude of volunteer opportunities available to you. Volunteering is one of the best ways to actively participate in your child's school experience.
Support- You can support our PTA by coming to monthly meetings, family nights, holiday celebrations, and various other PTA sponsored events. Additionally, participating in PTA fundraisers such as the Race for Education, Gertrude Hawk Candy Sales, and Book Fairs helps to raise the funds necessary to continue to supply our children with informative programs, family events, play days, field trips, celebrations, and various other opportunities.
Collaborate- By being a part of the PTA, you can work together with other parents, teachers, and administration to continue to bring new opportunities and experiences to our children.
PTA Vision, Mission & Values
PTA Vision--To make every child's potential a reality.
PTA Mission--The overall purpose of PTA:
A powerful voice for all children
A relevant resource for families and communities, and
A strong advocate for the education and well-being of every child.
PTA Values--What PTA stands for:
Collaboration: We work in partnership with a wide array of individuals and organizations to accomplish our agreed-upon goals.
Commitment: We are dedicated to promoting children's health, well-being, and educational success through strong parent, family, and community involvement.
Accountability: We acknowledge our obligations. We deliver on our promises. Respect: We value our colleagues and ourselves. We expect the same high quality of effort and thought from ourselves as we do from others.
Inclusivity: We invite the stranger and welcome the newcomer. We value and seek input from as wide a spectrum of viewpoints and experiences as possible.
Integrity: We act consistently with our beliefs. When we err, we acknowledge the mistake and seek to make amends.